Want to plan a summer getaway that is as relaxing as it is fulfilling? Look no further than Carolina Beach, where you can enjoy a classic beach vacation while gaining the one-of-a-kind experience of helping endangered Loggerhead sea turtle hatchlings. That's right – it's "turtle time" again at Carolina Beach!
Here are three ways to experience turtle time this summer: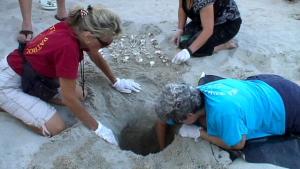 Get Involved: Each summer from around late May through early September, visitors to the area can help the Pleasure Island Sea Turtle Project, a non-profit organization dedicated to preserving and protecting all sea turtle species. The group is comprised of volunteers who patrol the beach, cover and protect nests, dig trenches to the ocean, and guide hatchlings through the trenches once they are ready for their journey. Interested in the project? You're welcome to lend a hand to the volunteers during your visit.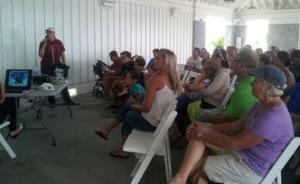 Get Informed: Looking for some other ways to learn about sea turtles during your vacation? The Pleasure Island Sea Turtle Project offers fun and informative Turtle Talks throughout nesting season. Turtle Talks provide a wealth of information about the treasured sea turtles and ways to help protect them. Turtle Talks take place at 7:00 p.m. each Wednesday from June 7 through August 30 at the Carolina Beach State Park Visitors' Center, as well as at 7:00 p.m. each Monday from June 12 through August 28 at Ocean Front Park & Pavilion in neighboring Kure Beach.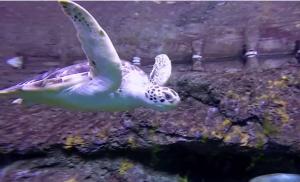 Get Acquainted: For even more turtle time, visit the nearby North Carolina Aquarium at Fort Fisher to meet its resident sea turtles, like Shelldon, the green sea turtle. Watch these turtles glide through the water and explore the aquarium's sea turtle exhibits to learn more about these adorable and fascinating creatures. 
Whether you choose to get involved with the Pleasure Island Sea Turtle Project or simply want to learn more about how you can help ensure a safe nesting season for these lovable reptiles, you'll find plenty of ways to enjoy turtle time at Carolina Beach.