When it comes to surfer-friendly beach towns, Carolina Beach has a long history of welcoming wave-riders. While it's hard to pinpoint the exact moment when the first board met the Carolina Beach surf, wave-riders were occasionally spotted as early as the 1920s.  Scholars believe that they may have been inspired by magazine articles and surf newsreels featuring Hawaiian surfers. According to oral history accounts archived by the Federal Point History Center, local surfers often crafted their own wood-plank surfboards (sometimes even using ironing boards).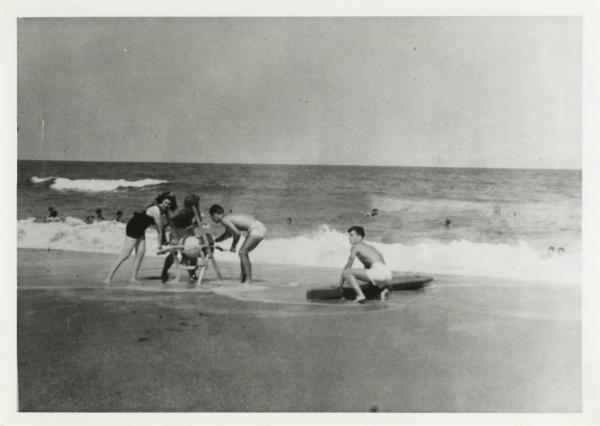 Carolina Beach lifeguards (Hannah Block, far left)
Photo courtesy of Cape Fear Museum of History and Science
Joseph "Skipper" Funderburg, a local surf historian, author and pioneer surfer, said by 1939 lifeguards at Carolina Beach were using long and hollow wooden rescue boards that were purchased and provided by the American Red Cross. Community leader Hannah Block, a Red Cross volunteer and Carolina Beach lifeguard, was the first female head lifeguard on North Carolina's coast. To this day, ocean safety remains a top priority for Carolina Beach, which is a USLA Advanced Certified Beach with USLA-trained lifeguards on duty between Memorial Day and Labor Day.
In his book Surfing on the Cape Fear Coast, Funderburg details Carolina Beach milestones which include the formation of East Coast Surfboards, the state's first surf shop, which was founded in 1964 by board makers Harold Petty and Lank Lancaster. In 1965, Atlantic Surf Shop opened in nearby Kure Beach. Two surf clubs—South Island Surf Club and Mid Atlantic Surf Club—formed on the island during the early 1960s. In 1966, Funderburg won First Place during the South Atlantic Surfing Championship's first competition in Carolina Beach. Other contestants included East Coast Surfing Hall of Fame 2004 inductee local surfer Bill Curry.
According to Funderburg, the real glory days for local surfers were from 1960 to 1965 when pioneer surfers like Rodney Everhart, Susan Efird, brothers Jeff and Jimmy Allen rode their longboards on Carolina Beach waves every surf-worthy day. As popularity for the sport grew, the Eastern Surfing Association (ESA) was founded in 1967. By the 1970s, the ESA's East Coast Surfing Championships added a women's division whose competitors included Carolina Beach surfers Brooks Pearce, Bette Marsh, Brenda Seitter, Amelia Valley, and Toni Bryant, a N.C. Surfing Hall of Fame 2021 inductee.
Today the Carolina Dreamin' mural near the Boardwalk at 7 Harper Ave. pays homage to the sport and welcomes surfers to the island. One could say that a surfing renaissance has taken place in recent years with more surf shops, surf schools, gear rental businesses, and competitions than ever before. There's even a live surf cam at the Hamlet Avenue surf break!
Carolina Beach is home to contemporary pro-longboard surfers Tony Silvagni (World Surf League) and rising NSSA star Mack Landry. When he's not traversing the world to compete in surfing contests, USA surf team gold medalist Tony Silvagni owns Tony Silvagni Surf School and organizes charity surf contests in Carolina Beach. Consistently ranked among the world's top longboard surfers, Tony gets as much stoke from teaching kids and adults to surf as he does winning heats. In 2015, he founded the Carolina Beach Longboard Club to promote longboard in the community by showcasing the sport in a positive manner.
Kevin Murphy, another Carolina Beach star waterman, is a surfer and educator whose heart is as big as the ocean. He founded Odysea Surf School with the goal of teaching surfing lessons in a positive learning environment. Odysea's surf instructors also volunteer with Ocean Cure, a 501c3 non-profit organization (also founded by Murphy) that provides free surf lessons to medically challenged and at-risk youth and adults. During the summer Ocean Cure operates several charity surf camps and installs/maintains the accessible beach mat near the Carolina Beach Boardwalk. In July, Ocean Cure hosts Life Rolls On: They Will Surf Again, an adaptive surf event.
*Special thanks to surf historian/author Joseph "Skipper" Funderburg for his research and to Cape Fear Museum for images.