Finding ways to relax and recharge your batteries is essential to achieving the perfect balance of happy and healthy.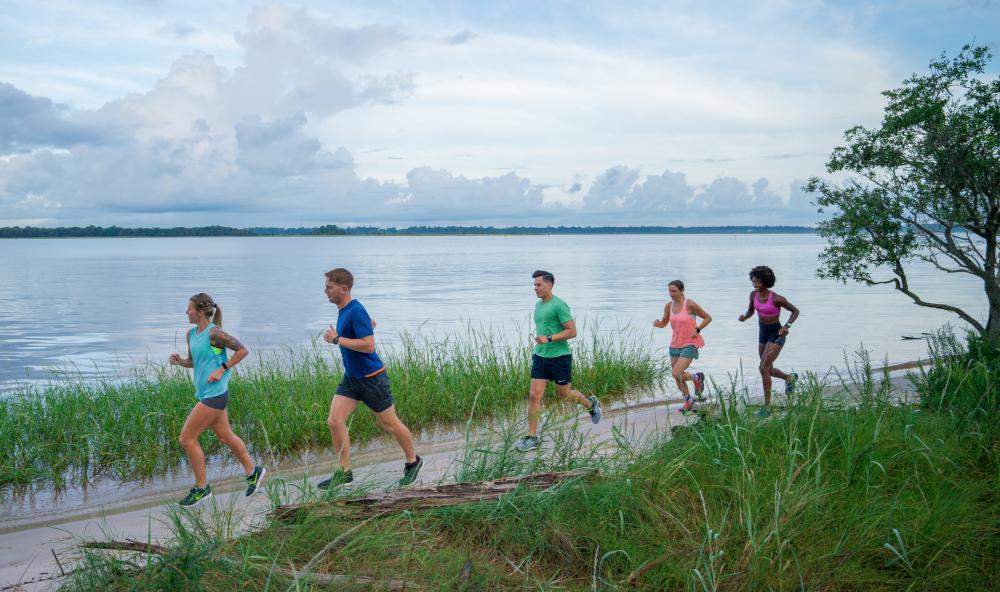 Whether you want to relax by the sea, explore the outdoors, practice yoga or dine at restaurants using the freshest ingredients in the area, it's easy to create your own DIY wellness retreat filled with activities naturally built into your vacation at Carolina Beach.
Explore Offshore
Let your stress slip away with a day on the water. Rent a kayak or stand-up paddleboard from Pleasure Island Rentals and head out for a day of adventure. Soak up sweeping views of Carolina Beach as you paddle through the island's breathtaking waterways. Trying something new is a great way to build your confidence and get ready to take on new challenges.
Get Active
Start your day off with a refreshing morning run or bike ride along Carolina Beach's 1.2-mile Island Greenway that takes you from Mike Chappell Park to the intersection of Alabama Avenue and Spot Lane.
Welcome the sun during rise and shine yoga classes on the beach with Salty Dog Yoga and Surf. The energizing vinyasa class will allow all yoga lovers to become one with their flow. Or, enjoy an indoor class at their studio by the sea. The laid-back island vibe and welcoming staff are certain to leave you feeling relaxed and rejuvenated, too.
See the Sights
For a glimpse of nature's wonders, head to Carolina Beach State Park to peruse 761 acres of hiking trails and Cape Fear River views. Keep your eyes peeled for carnivorous plants like the Venus flytrap, which only grows natively within a 60-mile radius of Carolina Beach. Bring your binoculars and embark on a guided birding adventure with Mahanaim Adventures, where you'll navigate to birding hotspots only accessible by kayak.
Put on your hiking shoes and spend the day exploring Sugarloaf Trail, where you'll experience a coastal evergreen forest, coastal fringe sandhill forest, tidal cypress-gum swamp and longleaf pine savanna. The trail ends at Sugarloaf Dune, one of the Carolina Beach State Park's most unique features that dates back to the early 1700s. Take a step back in time as you explore the 50-foot sand dune that was once a camping spot for more than 5,000 Civil War troops.
Beach Fare and Beyond
Refuel with all-natural, fresh-squeezed juices, acai bowls and smoothies at JuSea. Savor your treat inside the restaurant, or enjoy mild fall temperatures as you stroll along the nearby beach.
Head to Soul Flavor Kitchen & Bar to choose from a variety of healthy salads and soups, as well as a selection of vegetarian, vegan and gluten-free options. You don't want to miss out on the restaurant's signature dish, Nana Maria's Paella, a delectable seafood dish served in a vegetable and saffron tomato broth.
Indulge in Caribbean-inspired smoked seafood and meats, fresh salads and more at Salt Fish Restaurant for a delicious and healthy feast. Award-winning Chef Kirsten Mitchell's eclectic dishes, crafted with Polynesian influences from her childhood and extensive travels, will make your taste buds come alive.
Savor the ultimate dining experience at Surf House Oyster Bar & Surf Camp. One of the standard-bearers in pairing sustainable seafood, craft cooking and Southern hospitality, this surf-inspired farm-to-table restaurant specializes in serving small-batch spirits and an ever-evolving list of wines and cocktails.
Make the most of your wellness getaway with trip ideas to help you explore more.