Did you know that surfing has quickly become one of the top trends in travel and wellness? The now $130 billion industry is gaining momentum as a popular go-to vacation activity for families and millennials alike. Surfing destinations like California and Costa Rica are well-known for surfing but with large waves and local, experienced surfers in the water, these places can be intimidating for beginners.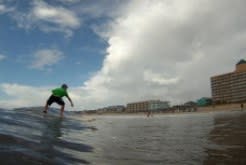 Instead, pack your board shorts or bikini and head to Carolina Beach, N.C., one of the East Coast's best-kept secrets for budding surfers. With warm waters, less intense waves, and expert instructors like professional surfer Tony Silvagni, this Atlantic Coast destination is the perfect place for beginners to hang ten.
Read on for more information about the benefits of choosing Carolina Beach as the spot to learn to catch a wave during your upcoming getaway.
Ideal Conditions for Beginners
The mellow, warm waters at Carolina Beach offer novice surfers the opportunity to get their feet wet slowly by learning the basics and important safety measures, and the ability to catch their first wave quickly. To learn more about the natural conditions that make this beach a good fit for beginning surfers, check out this Quick Tips Surfing Video.
Learn from a True Professional
Tony Silvagni Surf School gives visitors the opportunity to learn from CPR, AED and first aid-certified instructors, along with a professional surfer! With more than 20 years of experience on the board, Tony Silvagni has an impressive number of titles under his belt, including 2015 Taiwan Open Surfing Pro Longboard champion, second place overall in the North American Longboard Tour in 2015, and a gold medalist with the 2011 United States Olympic surfing team. In 2003, Silvagni opened his namesake surf school at Carolina Beach.
A Wave for Everyone
From beginners to more advanced surfers, lessons at Tony Silvagni Surf School are personalized for all surfing abilities. Group lessons are a great way to make friends and create a sense of community on the water while learning how to share waves with fellow surfers. The surf school also offers private lessons that provide students with more one-on-one attention, perfect for first-time surfers.
 
In its mission to ensure every aspiring surfer has an opportunity to hang ten, local surf school Odysea has partnered with Ocean Cure, a non-profit that believes in the healing properties of the ocean. Through free surf camps and lessons at Odysea, medically at-risk youth and adults can enjoy a fun afternoon on the water and gain the reassurance that there is no obstacle they cannot overcome.
A Week of Waves
While the adults sunbathe on the sand and relax, give the kids a week they will never forget at Tony Silvagni's week-long surf camp. Students learn essential surfing lessons like paddling and positioning as well as wave formation, water safety and surfing etiquette. Week-long camps are perfect for travelers interested in learning to surf in a relaxed environment.