Keeping it Green at Carolina Beach
Eco-adventure with the family at North Carolina beach town
by Valerie L. Robertson
I live and work in downtown Wilmington, and when taking a break from my busy schedule, I like to immerse myself in nature. Nothing suits me better than to drive to Carolina Beach, where I have my pick of beach, marshland and forest. As soon as I drive over Snow's Cut Bridge separating the island from the mainland, I start to decompress. The island's laid back feel is especially great for families with little explorers. It inspires curiosity and attention to the oft-overlooked details of the natural world—the design a baby sea turtle makes in the sand on its way to the ocean, individual birdcalls, lapping ripples against a kayak's hull.
Eco-activities
My favorite place on the island is Carolina Beach State Park. I usually stop at the visitor center to brush up on my flora and fauna knowledge with the impressive exhibits. The center offers kid-friendly nature hikes, "Turtle Talks" and educational programs throughout the year, featuring the park's various habitats and ranger-led hikes.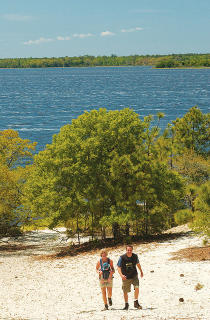 Our corner of North Carolina has been designated a biodiversity hotspot by The Nature Conservancy. I walk through multiple ecosystems in the park—pocosins, forests, marshes and dunes. I get a gentle, soft sand workout climbing the 50-foot Sugarloaf Dune, and look out over Cape Fear River. I try to imagine the scene during the two major Civil War battles for control of Fort Fisher. The dune served as both a navigational landmark and campground. The retrospect always gives me a sense of nostalgia and an appreciation for the peace.
The trails are relaxing any time, but I especially enjoy guided nature walks with a park ranger. Along the trail, she points out Venus flytraps. One of the only spots in the world they grow naturally is within a 60-mile radius of this park. Our guide leads us to a wooden platform over wet, boggy ground, where we kneel to examine the petite, carnivorous plants. She identifies bladderwort and butterwort, but my favorite is the diminutive sundew. Hairs on its delicate leaves are covered with a sticky bug-attracting substance. It's deadly for insects, but the plant's delicate shape always reminds me of a colorful brooch my grandmother owned.
Bring your binoculars if you love birdwatching. You may see redheaded woodpeckers, brown-headed nuthatches or raptors. The area surrounding Carolina Beach is rich with bird activity, with nine sites on the North Carolina Birding Trail—one in Carolina Beach State Park and three nearby on the island at Fort Fisher. On one Cape Fear Audubon Society walk, I was thrilled to see my first painted bunting, a bird that only lives within a mile of the ocean. With its azure blue head, green wings and ruddy orange belly, this colorful bird is easily mistaken for a parrot.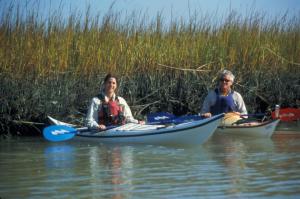 I love traveling local waterways by canoe or kayak, exploring the river, salt marshes, tidal flats and sounds. You can paddle right up to the edge of saltmarsh grass and see herons, egrets and other wading birds stalking fish for dinner. It's an eco-friendly way to learn about the shoreline up close without disturbing the animals that live there. I usually opt for a guided tour, especially when hosting guests. In addition to providing helpful logistical instruction, experienced guides point out details such as osprey nests high in cypress trees and other wildlife I might otherwise overlook.
Mahanaim Adventures offers Kayaking Adventures to Fort Fisher Basin. Its calm water is a nursery for fish, which attracts hungry birds, especially in the early morning. You might see American oystercatchers skimming the water, Brown pelicans diving or cormorants perched on pilings.
One tour I always recommend for families is Zeke's Island Family Adventure Tour with Kayak Carolina. The expedition includes crabbing and swimming, so kids get a change of pace from paddling that keeps them enthralled.
We love our sea turtles!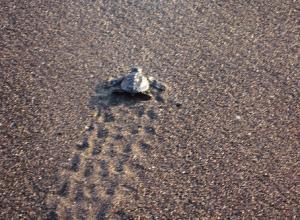 I'll never forget the evening I arrived at the beach just as a nest of loggerhead sea turtle hatchlings crawled to the surface of the sand. Nearly 100 local and visiting volunteers with Pleasure Island Sea Turtle Project grouped near the nest. Baby turtles must go directly into the ocean when they hatch, and the volunteers supervised the imperative journey. For directional encouragement, they'd dug a shallow trench in the sand to the water's edge, and one person with a lantern walked into the waves, simulating moonlight reflecting off the ocean. The tiny turtles followed the course, though trained bystanders were ready to redirect strays. It's one of those experiences that establishes a lifelong connection with wildlife.
Sea turtles nest from May through September, but they're easy to find year-round at the nearby North Carolina Aquarium at Fort Fisher. Stars include Shelldon the sea turtle, as well as other non-turtle favorites like Luna, an albino alligator. And children flock to the touch tanks, where they can feel a stingray or bamboo shark as it swims by. There are also some pretty cool events and an aqua camp for the kids.
Coming Attractions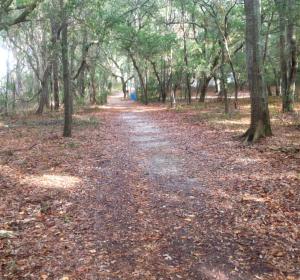 Always an attractive destination, Carolina Beach will become even more so with new projects already underway. Bike and pedestrian path additions will provide yet more opportunity to enjoy nature. The Island Greenway Project—a 10-foot wide multi-use paved path—will be perfect for walking and biking. Two additional wide paths are scheduled, and a new pedestrian plan throughout Carolina Beach is in the works. And for greater accessibility, an oceanside wheelchair access area near Carolina Beach Pier will offer parking, picnic sites, restrooms and a covered lookout deck.
Already partially built, a five-acre man-made oyster reef off Carolina Beach State Park's shoreline will expand the oyster habitat. Oysters do a phenomenal job of filtering and cleaning water, and this reef, built of small concrete chunks to simulate oysters' hard native habitat, encourages oyster growth and attracts other marine life. Cleaner water, and better for the environment.
Traveling sustainably
Want some ideas for being a more eco-conscious traveler? Buy locally produced items, use less plastic, bike, walk or paddle instead of motor, support businesses that care for the environment, and be mindful of the source of your food. Carolina Beach residents understand the preciousness of their area, so they are very intentional about protecting its natural beauty.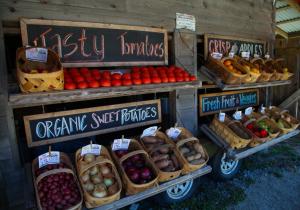 As part of the growing movement to eliminate the use of single-use plastics, there is now a local "Ocean Friendly Establishment" designation. Participating Carolina Beach restaurants include Ocean Grill & Tiki Bar, Shuckin' Shack Oyster Bar, Lazy Pirate at the Boardwalk and Island Wellness Market.
You can be sustainable in your food choices by asking for locally sourced food in restaurants or at the market. If preparing your own food while on the island, buy sustainably by shopping at the seasonal farmers' market. And The Veggie Wagon—featuring the area's first solar-powered produce stand—offers local foods year-round.
For years to come
There's something magical about driving along a narrow strip of land and glimpsing the ocean on one side and the marsh on the other, and Carolina Beach offers easy access to both. As Wallace J. Nichols reminds us in his book Blue Mind, "…science shows how being near, in, on, or under water can make you happier, healthier, more connected, and better at what you do." I take that as an open invitation to cross Snow's Cut Bridge to Carolina Beach. And have every intention of doing so for years to come.