Local Eye on Carolina Beach
Inside guide to endless entertainment for all at this North Carolina coastal hotspot
by Judy Royal
Carolina Beach has always held a special place in my heart. Like many, I first became acquainted with this charming seaside town by way of family trips as a child. When I became a permanent resident here a couple of decades later, it seemed unreal. Sometimes I still can't believe I get to call this vacation wonderland my home.
From outdoor activities to fresh seafood and live music, Carolina Beach is the perfect place for all ages to come together and spend some quality time on the North Carolina coast. One of the best things about the area is that it has still managed to maintain its vintage charm while staying fresh by adding new things to see and do. It might even be enticing enough to get tweens and teens to put down their smartphones! Start planning your spring and summer getaways now with attractions and activities that will keep both adults and kids endlessly entertained.
Dive right in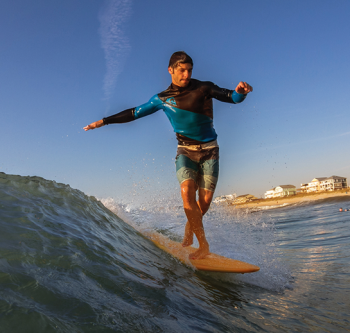 Let's start with the most important element of any visit to Carolina Beach: the water. The ocean is naturally our main draw, and there are a number of ways for you to enjoy it besides the standard swimming, wading in the surf and sunbathing. Tony Silvagni Surf School, for example, offers surf camps, kayak tours and group and individual standup paddleboard (SUP) lessons. Odysea Surf School also offers SUP lessons as well as surfing instruction.
If you want to skip the big waves and head over to the other side of the island, Paddle NC has kayak and paddleboard tours located on-site at Carolina Beach State Park. Or you can stay on dry land and enjoy the park's other offerings like educational programs guided by rangers, including carnivorous plant hikes and turtle talks.
Are you more in to being on top of the water rather than in it? Navigate over to the Carolina Beach Fishing Center and Marina where there are a number of providers who offer fishing trips and pleasure cruises on the Atlantic Ocean. For the kids who are better suited for river rides, narrated Intracoastal Waterway cruises are a big hit and highlight the local wildlife and the island's history in a fun and informative way.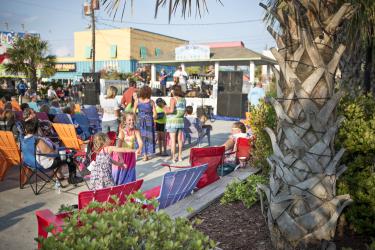 Of course, Carolina Beach wouldn't be the same without its iconic Carolina Beach Boardwalk. Included on Budget Travel magazine's list of "America's Most Awesome Boardwalks" and one of the last remaining boardwalks on the East Coast, the boardwalk features timeless seaside family fun with shops, restaurants, carnival rides and plenty of events for all ages, including a weekly kids' night and bingo, plus live bands and fireworks every Thursday during the summer. Don't forget to try ice cream, fudge and those highly craveable confections from Britts Donut Shop, a constant since 1939.
Events to celebrate
If you want more than just a quick taste of those days of yore, book a historic boardwalk tour with the Federal Point Historic Preservation Society, happening weekly June 11 through Aug. 13.
When you're ready to venture away from the beach and boardwalk, head over to the Island Greenway, a project scheduled for completion in 2019 that will offer a 1.2-mile paved path that will take bicyclists and pedestrians safely through town.
While you're in the area, don't miss out on the North Carolina Aquarium at Fort Fisher, located in neighboring Kure Beach and recognized multiple times by TripAdvisor as one of the country's top aquariums. Book a behind-the-scenes tour to learn more about North Carolina's marine life and experience first-hand all that this aquarium has to offer. There's also the Boogie in the Park Concert Series on the first and third Sundays of May through October at Kure Beach's Ocean Front Park.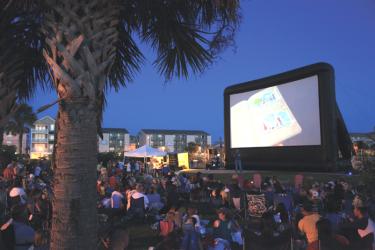 Families visiting Carolina Beach will want to be sure they stay overnight on a Sunday to take advantage of free movies at Carolina Beach Lake Park — a treat for all ages complete with concessions that won't break the bank. Other happenings worth planning your trip around are the 25th annual Pleasure Island Seafood, Blues & Jazz Festival in April, Carolina Beach Street Arts Festival in May and the Carolina Beach Music Festival in June.
Flavors to savor
As the sun drops lower on the horizon and the day's activities have built up hearty appetites among your tribe, head out to dinner at an array of culinary and dining options to satisfy all tastes. Get some quick and tasty takeout from Island Burger & Bites or sit down for sustainable seafood at Surf House Oyster Bar & Surf Camp, ranked by Our State Magazine as one of the five must-visit farm-to-table restaurants in North Carolina.
More notable names fairly new to the restaurant scene are:
If you're feeling indecisive, sample what multiple venues have to offer with Tasting History Tours.
Since Carolina Beach is truly an all-ages getaway, visitors with kids may want to make sure grandparents are on hand. In addition to the joy of multigenerational vacations, it wouldn't hurt if they were up for some babysitting if, for example, you wanted to take advantage of the local music and nightlife scene. Hey — that's why we have all these spacious vacation rentals around!
Nightlife, dog days and beyond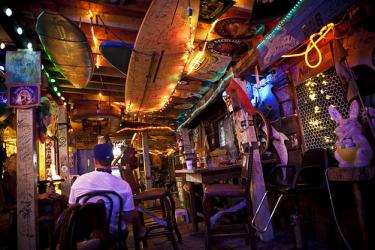 The Fat Pelican is a top pick for many visitors looking to experience Carolina Beach's nightlife, as it was voted as one of "The 32 Diviest Dive Bars in America" by impulcity.com. It undoubtedly earned this distinction at least in part due to a hodge-podge of island artifacts not-so-strategically placed, a bar made out of a boat and a famed walk-in cooler so refreshing that you'll want to linger after being out in the sun. You can also find live music and cool island vibes at Ocean Grill & Tiki Bar, named one of "America's Best Beach Bars" by endlessvacation.com, and SeaWitch Cafe & Tiki Bar.
If you're in the crafty mood, there's always something good on tap at Good Hops Brewing. This family-owned, family- and dog-friendly, small-batch brewery brings passion and creativity to the game. It also brings game to the game — disc golf, that is. In fact, it recently added nine more holes to its course. Another big change for 2019: new barrels and fermenters for bigger and better beer production.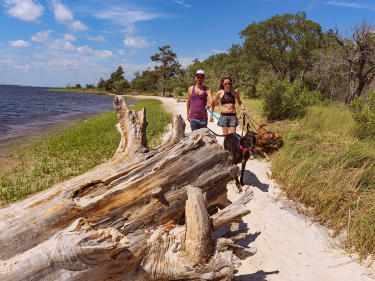 In addition to hanging out at Good Hops, four-legged family members have lots of fun in store including designated morning and evening times where they're welcome to stroll or jog on the beautiful beach — provided their human holds their leash. Man's best friend can also join their companions on hikes through Carolina Beach State Park year-round as long as they are on a leash. Plus, there's a great dog park to sniff out at Mike Chappell Park.
Carolina Beach truly is a place for all, so come experience what we have to offer. And don't be afraid to chat with the locals if you need some pointers. We welcome visitors with open arms and are eager to share our love for this little slice of paradise.